SE Asia opportunities
South East Asia is an extensive user of biomass for heating but the market for biomass fuels is not well developed. S E Asia also has extensive opportunities for the processing of solid and liquid waste for the production of biogas.
Bioenergy Association is assisting  Asia-Pacific Economic Cooperation (APEC) to develop the biomass energy market. APEC has an Energy Working Group which seeks to maximise the energy sector's contribution to the region's economic and social well-being, while mitigating the environmental effects of energy supply and use.
APEC aims to double the share of renewables in the APEC energy mix, including in power generation by 2030, as set out in the 2014 APEC Economic Leaders Declaration. 
The opportunities for New Zealand consultants and equipment suppliers appears in the use of biomass for heat and the processing of organic enriched waste water to make potable water, fertilizer and biogas for the generation of electricity and use as a vehicle fuel.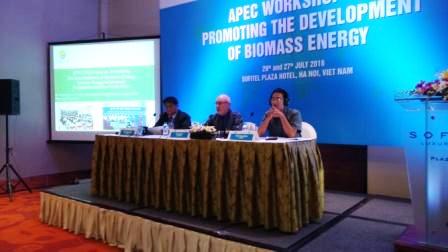 Brian Cox (EO, Bioenergy Association) chairing a session at an 
APEC biomass energy workshop in Vietnam (July 2016)