Bioenergy facilities directory
The Bioenergy Facilities Directory is a comprehensive source of information on bioenergy facilities in operation throughout New Zealand and Australia, it also features NZ and Australian based companies who have developed bioenergy facilities overseas.  Use the Directory to find out more about the wide range of uses of bioenergy in Australasia today and to find those specialists with the experience to build or consult on a similar facility for you.
The Bioenergy Facilities Directory has been developed to facilitate the promotion of further bioenergy projects. You can search for information by type and location and find the contact details for relevant specialist service providers.
Click on the map below to begin to search projects by type and location.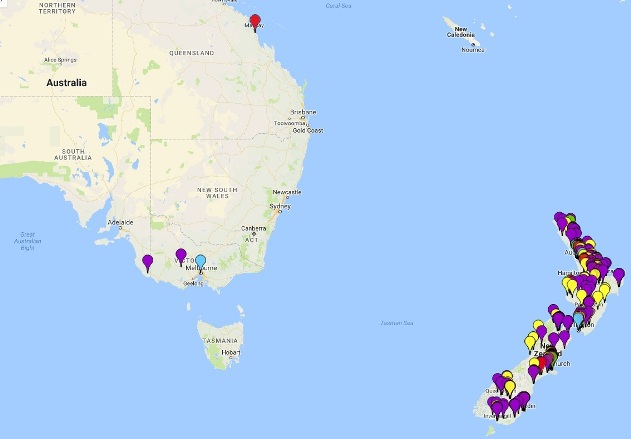 What kind of facilities can you find?
Any bioenergy project that is relevant to the bioenergy sector may be entered. This includes international projects that are good demonstration projects for New Zealand and Australian applications or undertaken by New Zealand and Australian service providers.
Using this database it is possible to locate bioenergy applications across the country that produce or use biogas from organic waste; produce wood fuels; use heat from wood fuels; and produce or use transport biofuels. Searches can be carried out using a variety of filters to narrow down the information that you are looking for.
The Directory stores details of facilities implemented for a wide range of bioenergy based applications such as wood fuel to produce heat for schools, hospitals and small scale industrial heat processing. Profiles of biogas generation and use are available and projects range in size from 100 KW up to 50 MW in size.
If you are looking for a service provider, use this Directory to find examples of their work. For further information on any particular project contact the service provider/technology installer in the first instance.
Each facility in the Directory provides details about the technical aspects including the fuel, the owner and the developer. With these details, it's easier to see what is possible with bioenergy, and who can provide you with a service to meet your needs.
Information on the operation of the Directory is available on the updated Information Sheet. If you wish to have your facility included in the Directory please log in (or ask us for a log in.)
This Directory has been developed with the financial assistance of the Energy Efficiency and Conservation Authority (EECA) and New Zealand Trade and Enterprise (NZTE).