The 8th Asia-Pacific Biomass Energy Exhibition (APBE2019)
Posted by

Anne Phiri

on Friday, 21 December 2018
Where:
China Import & Export Fair Complex, Guangzhou, China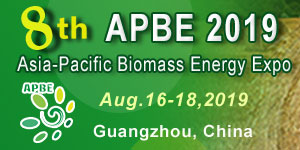 APBE 2019 is going to be staged on a show floor of 18,000 sq.m with 200+ exhibitors. What's more, the show will be held under the same roof as 2019 China Heat Energy Exhibition (Heat China 2019) and the 11th Guangzhou Int'l Solar Photovoltaic Exhibition 2019 (PV Guangzhou 2019), offering more heating and energy solutions!
Exhibition Scope
Biomass molding fuel and manufacturing equipment;
Biomass boilers, combustors, stoves, boiler improvement and heating service companies;
Biomass gasification technologies and equipment;
Biogas technologies & engineering equipment;
Comprehensive utilization of crop straw;
Biomass & garbage power technologies and equipment, integrated garbage treatment, recycling of industrial waste gas and heat;
Advanced biology liquid fuel and refining technologies;
Related technologies and equipment of biomass combined heat and power generation;
Detection, evaluation and certification institutions, marine biomass energy, etc
Register for the event 
If you don't want to miss out on this grand event, then please mark its date and venue, and register for your free digital ticket now!