National Biofuels Conference 2016 - Powering a cleaner future
Posted by

Anne Phiri

on Thursday, 9 June 2016
Where:
Royal International Convention Centre, Brisbane, Queensland, Australia
An invitation to attend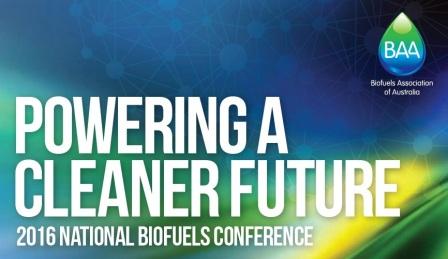 The Biofuels Association of Australia (BAA) is proud to present - with support from the Queensland Government - the National Biofuels Conference 2016.
The biofuels sector is on a cusp of a growth spurt following major policy changes in Queensland and NSW. As demand grows to drive our economy in a cleaner, more sustainable way, biofuels is shaping up as a bigger player into the future. The Queensland Government has released a detailed plan for the bioenergy sector with biofuels as a major plank. These developments make this conference, held at Brisbane's premier conference centre, a landmark gathering as the industry develops rapidly. About 300 people are expected to attend the event with a rare mix of speakers, including international experts. 
If you are interested in biofuels and the future this is a must attend conference.
Key conference themes:
The Queensland biofuels mandate – what does it mean for the industry?
Developing and growing a bio-economy
Biofuels and the Aviation Sector
Ethanol Plant Production
Bio-diesel and a cleaner environment
Education and public awareness
New biofuel technology
Biofuel and developing a sustainable agriculture industry
Who should attend:

The Conference is attended by senior executives and decision makers from across the industry and supply chains, senior political and government representatives at federal and state level, universities and research institutes, non-government organisations, investors, other key stakeholders, thought leaders and media.
View the Event flyer  |  View Conference outline