residues2revenues
Posted by

Anne Phiri

on Tuesday, 7 December 2021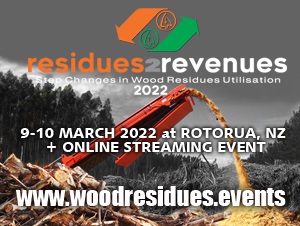 We have the potential to transform the forestry sector into a provider of biofuels, bioenergy and a range of renewable bioproducts. This event will help forest owners and managers, harvesting contractors, sawmills and wood manufacturing companies better understand the real value of wood residues and the opportunities in supplying this growing market.
The March 2022 event will include a one-day conference, a pre-conference in-field chipping showcase where new technologies for processing forest slash, logging residues and stump wood will be outlined by major equipment suppliers from around the world.
A practical post conference workshop run by the Bioenergy Association will also look more closely at the quality and delivery requirements for wood fuels to larger scale industrial heat and energy plant users. 
Discount for Bioenergy Association members - Bioenergy Association members are entitled to a 10% discount off the standard conference registration rate for conference delegates.  Members please contact the BANZ administrator to get the discount code to use when making your booking.