Webinar: Bioenergy's role in the emerging circular bioeconomy
Posted by

Anne Phiri

on Friday, 28 August 2020
About this webinar
New Zealand has the opportunity to transform its primary sector, and bioenergy can play a central role.  
Aotearoa New Zealand is in an enviable position to transform its primary sector to enhance resilience, regeneration, product value and social outcomes. By shifting towards a circular bioeconomy, the inefficiencies and negative impacts of the current, largely linear, primary sector can be mitigated.
Well designed systems that make wise use of the flows of material and energy across our landscapes can provide a range of high-value bio-products, ecosystem services, and social goods. Central to these systems is bioenergy recovery, where sustainable biomass and renewable energy provide the ability to generate domestic sources of heat, electricity and liquid fuels.
Key challenges and questions remain for the integration of bioenergy into our circular bioeconomy future:
What is the highest and best use for biomass of various types?
How to match the scale of bioenergy recovery with resource distribution?
How to gain social license in a context where landuse is perceived to be highly contested?
Who is willing to share risk in pioneer deployments?
This webinar will discuss these questions in the context of the opportunity, and provide a forum for discussion among interested parties.
The Bioenergy Association invites anyone interested in how bioenergy and biofuels could contribute to a circular bioeconomy to attend this webinar.
Register for webinar
Registration is essential in order to connect to the live webinar, or to have access to the recording and presentation after the event.
Email us to be sent the link
Attendance at this webinar is FREE courtesy of EECA.
About the presenter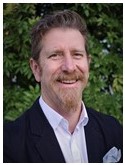 Michael Lakeman, Ph.D
Michael has over a dozen years' experience in the global bioenergy sector, having been a pioneering figure in the development of sustainable aviation fuels at Boeing. Now focused more broadly on the emerging bioeconomy, Michael is founder and principal of Rock Stack Innovation, a bioeconomy consultancy serving clients around the Pacific Rim.