Nu-Way Energy (NZ)
Bronze member
in categories Equipment provider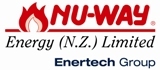 Nu-Way Energy (NZ) Ltd is a long established company having been in operation in New Zealand for over 28 years, serving the industry with high quality products.
Constantly evolving and adapting to changing business environments, today we supply heating, cooling and process equipment solutions to industry in New Zealand. Our product assortment supports a wide range of industrial processes from within our four product groups of air compression and noise suppression; fluid transfer and mixing systems; industrial and process heating; and thermal comfort.
Applications range from sewerage and waste water treatment to hygienic food and pharmaceutical production; from refinery applications to diesel dispensing on a remote mine site; from keeping chickens warm to high temperature furnaces; and from café heating to HEPA filtered air conditioning for hospital theatres and food packaging plants.

View or download Nu-Way Energy company profile
---
Website:
http://www.nuwayenergy.co.nz/
Contact: Paul Bowie
By email:
paul.bowie@nuwayenergy.co.nz
Company activities:
Equipment providers