Major step in NZ's move to renewable diesel fuel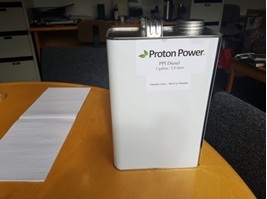 19 March 2018
Miscanthus New Zealand (MNZ) Ltd and its sister company GP International Ltd (GPI) are happy to announce that New Zealand's first sample of CARBON NEGATIVE RENEWABLE DIESEL FUEL (RDF) made from cellulosic feedstocks, arrived in NZ last week and is now being independently tested. 
This takes the development of renewable liquid fuels in NZ well ahead of anything considered by other market participants or researchers.
Unlike the strongly acid, water-based oil that comes from pyrolysis systems that are being developed by others for liquid fuel production, this RDF product needs no further upgrading and is ready to be used directly as a drop-in fuel in place of fossil fuel diesel.