Otago wins prestigious sustainability award

November 2018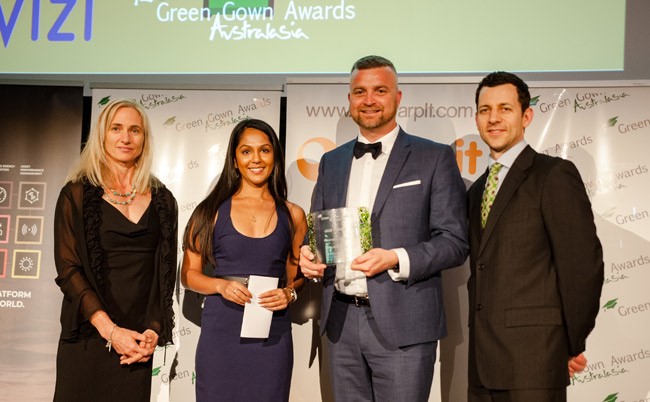 Representing the University at the Green Gown Awards Australasia was Otago Chief Operating Officer Stephen Willis (second from right). He is pictured here with (from left) Australasian Campuses Towards Sustainability President Leanne Denby, Envizi Account Manager Naomi Perera and Australasian Campuses Towards Sustainability Vice President – Programs Edward Maher. Envizi sponsors the sustainable campuses award category.
The University of Otago has won a prestigious Australasian sustainability award for an initiative that aims to shrink the University's carbon footprint by a third by 2020 and propel the campus more than halfway towards being zero carbon.
Chief Operating Officer Stephen Willis, who was in Adelaide to receive the award, says being chosen as a winner in the only awards dedicated to recognising sustainability excellence in the tertiary education sector in Australasia was incredibly humbling and shows Otago is on the right track.
He says the University's entry was about working with its main energy supplier, Pioneer Energy, to stop firing its boiler with coal and start using local wood chips, an initiative that is happening gradually, and will be complete by 2020.
This initiative has already seen a drop of 20 per cent in the University's largest emission source in only five months.  
Read more here