Ethanol-Blended Petrol
Ethanol-blended petrol : Questions and answers
Mobile is pleased to offer Mobile S8000 & Mobile S1000 ethanol-blended petrol to motorists at selected sites.
The following information addresses some of the common questions you may have about this change. If you have additional questions about Mobil S8000 & S1000 ethanolblended petrol, please call us on 0800 880 361.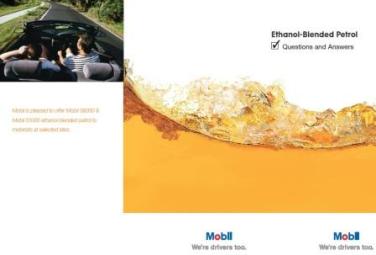 Download:
Click here to read the full document.
This section of the website is restricted to financial members of the Bioenergy Association. To enter it, please enter your username and password in the boxes below. If you would like the system to store this information on your computer for future sessions then tick the 'Remember Me' box (and don't use log out).