Industrial heat credits and the Renewable Energy Target
Industrial heat credits and the Renewable Energy Target
(Report prepared for Forest & Wood Products Australia by Gordon Weiss & Emma Fagan, Energetics Pty Ltd, April 2016)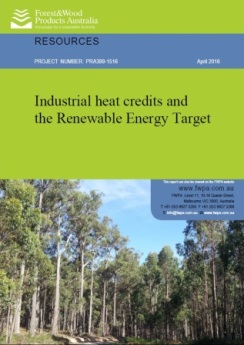 Stakeholders in the forest products industries believe that the inclusion of heat credits in the Renewable Energy Target (RET) can contribute to the cost effective decarbonisation of energy in Australia, promote the use of sustainable forest resources and support Australian forest industries.
This report looks at the role that renewable heat credits could play in both the current RET of 33 TWh in 2020 and modelled scenario of 66 TWh of renewable electricity in 2030. Note that the Australian Government has no current proposal to expand the RET. There are differing views in the market as to whether the current uncertain investment climate for utility scale renewable generators will see sufficient projects implemented prior to 2020.
This section of the website is restricted to financial members of the Bioenergy Association. To enter it, please enter your username and password in the boxes below. If you would like the system to store this information on your computer for future sessions then tick the 'Remember Me' box (and don't use log out).