NZ Energy Efficiency and Conservation Strategy 2017-2022
Unlocking our energy productivity and renewable potential: New Zealand Energy Efficiency and Conservation Strategy 2017-2022
Introduction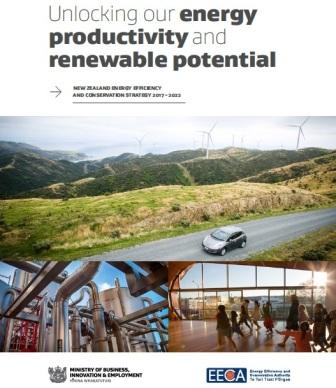 This document, "Unlocking our energy productivity and renewable potential," the New Zealand Energy Efficiency and Conservation Strategy 2017-2022 (the Strategy), is the national strategy on energy efficiency and renewable energy prepared under the Energy Efficiency and Conservation Act 2000 (the Act). It is a companion to the New Zealand Energy Strategy 2011-2021 (the NZES), which remains the Government's primary statement of energy policy.
This Strategy sets the overarching policy direction for government support and intervention for the promotion of energy efficiency, energy conservation and the use of renewable sources of energy, and guides the work programme of the Energy Efficiency and Conservation Authority (EECA) over the next five years.
The goal of this Strategy is for New Zealand to have an energy productive and low emissions economy. It encourages businesses, individuals, and public sector agencies to take actions that will help us to unlock our renewable energy, and energy efficiency and productivity potential, to the benefit of all New Zealanders.
Related resources
Click here to read the full document.