Off-road liquid fuel insights
Quantifying off-road diesel and petrol use in New Zealand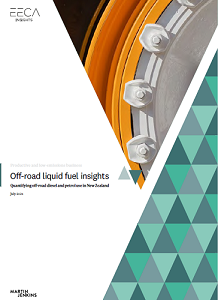 Twenty-eight percent of all liquid fossil fuel sold in New Zealand is used in off-road applications in both industrial and recreational activities. In 2019, this contributed 9% of New Zealand's Greenhouse Gas Emissions1, a number that needs to come down if we are to meet our climate change action commitments.
This research provides a more detailed breakdown of where off-road fuel is used than has previously been available, enabling better understanding of how fossil fuels are used in the off-road context, along with which industries and technologies are using it and how it is transported and stored, to enable planning for decarbonisation.
Click here to read the full document.