Report: Australian bioenergy and energy from waste market
The Australian bioenergy and energy from waste market
a market report by the Clean Energy Finance Corporation, November 2015.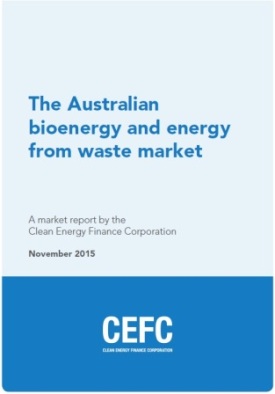 The Australian bioenergy and energy from waste market is under developed but has considerable potential. Bioenergy and energy from waste technologies have a long track record of cost-effectively reducing carbon emissions, improving energy productivity and generating reliable caseload renewable energy around the world. But these technologies are not widely deployed in Australia, contributing only 0.9 per cent of Australia's electricity output, well below the OECD average of 2.4 per cent. This suggests significant potential for new investment.
We estimate that the Australian bioenergy and energy from waste investment opportunity to 2020 is between $3.5 billion and $5 billion, potentially doubling the current level of installed capacity.
Click here to read the full document.