Report: Biogas handbook, Denmark
Authors: Teodorita Al Seadi, Dominik Rutz, Heinz Prassl, Michael Köttner, Tobias Finsterwalder, Silke Volk, Rainer Janssen, Published by University of Southern Denmark Esbjerg, Niels Bohrs Vej 9-10, DK-6700 Esbjerg, Denmark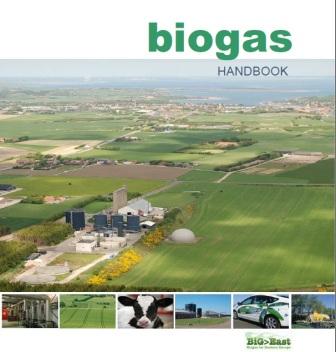 This biogas handbook is intended as a " how to approach"-guide, giving basic information about biogas from AD, with the main focus on agricultural biogas plants. The handbook is therefore primarily addressed to farmers and to future agricultural biogas plant operators, but also to the overall biogas stakeholders.
The handbook consists of three main parts. The first part, "What is biogas and why do we need it", provides basic information about biogas technologies, describing the microbiological process of AD and its main applications in the society, the utilisation of biogas and digestate and the technical components of a biogas plant. The second part, entitled "How to get started", shows how to approach the planning and building of a biogas plant, highlighting also the safety elements to be taken into consideration as well as the possible costs and benefits of such a plant. This part is supported by an EXCEL calculation tool. The third part consists of "Annexes" and includes explanation of terms, conversion units, abbreviations, literature and the address list of authors and reviewers.
This section of the website is restricted to financial members of the Bioenergy Association. To enter it, please enter your username and password in the boxes below. If you would like the system to store this information on your computer for future sessions then tick the 'Remember Me' box (and don't use log out).