Report: North Coast residues, NSW
A report by the Department of Primary Industries, NSW, Australia, (first published November 2017)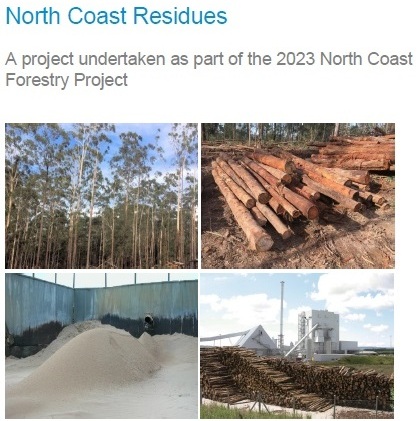 The North Coast of NSW has a long history of managing forests for multiple objectives, including timber extraction. The types of logs extracted are largely dependent on market conditions. Since 2013 the demand for pulp logs has decreased dramatically, resulting in large volumes of biomass left in the forest following extraction of high-value logs. In addition to increased wastage, the loss of this market has had a number of other important ramifications. The increased levels of harvest residues left in the forest are limiting future access and increasing operational risks (e.g. managing fuel loads). The management of hardwood plantations has been constrained as silvicultural thinning has become largely uneconomic, and the profit margins for wood processors have reduced in the absence of an export woodchip market.
The key aim of this project was to provide information on the extraction of forestry biomass for bioenergy and other applications on the NSW North Coast, so that potential investors can have greater confidence in the residue availability for each of the hubs. The analytical framework now in place allows the derivation of potential available volumes in the vicinity of any major regional town of interest in the North Coast.
This section of the website is restricted to financial members of the Bioenergy Association. To enter it, please enter your username and password in the boxes below. If you would like the system to store this information on your computer for future sessions then tick the 'Remember Me' box (and don't use log out).