Report: Wellington City Council - draft low carbon capital plan
A climate change action plan for Wellington 2016-2018
Have your say 29 March - 29 April
Climate change is without a doubt the great challenge of our time. As noted in the Intergovernmental Panel on Climate Change's fifth assessment report: "Warming of the climate system is unequivocal, and since the 1950s, many of the observed changes are unprecedented over decades to millennia. The atmosphere and ocean have warmed, the amounts of snow and ice have diminished, and sea level has risen."
In December 2015, 200 countries came together in Paris to set a pathway for unprecedented collective action to reduce the amount of greenhouse gases entering the atmosphere and further mitigate impacts of climate change on the planet. These 200 countries signed up to mitigation goals aiming to limit warming across the climate system to 2 degrees Celsius or less by the end of the century. This agreement shows that belief that we need climate action is no longer the exception but the standard.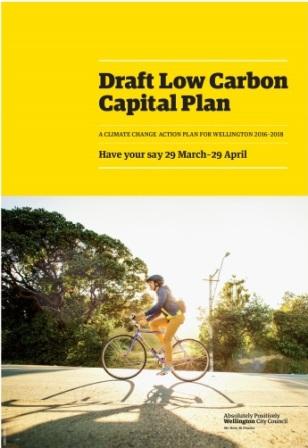 Cities have a strong role to play as the source of 70% of greenhouse emissions and with 90% of them vulnerable to coastal impacts. Wellington City is no exception and we have already positioned ourselves as a leader on climate change with the lowest per capita emissions in Australasia. The council has pioneered innovative programs like the Smart Energy Challenge and the Smart Buildings Challenge, as well as being one of the only cities in the southern hemisphere to host a Climathon in partnership with Europe's Climate-KIC. We have promoted climate action between local government and partners in the private sector – with both entrepreneurial start-ups and large businesses. The city is home to two wind farms that provide enough electricity to power all our residential homes, and we have the highest active and public transport use in the country. In addition, we own substantive forestry holdings and are aiming to plant 2 million trees across the city by 2020.
Meeting our ambitious goals will take a concerted effort of tailored investments and initiatives in partnership with the private sector and central government that help promote our weightless knowledge economy while reining in our carbon output. Momentum for climate action across the globe is building and Wellington is well-positioned to capitalise on its past successes to lead in many areas – not just by continuing its existing programs but by breaking new ground.