Investigation of food manufacturing and primary industry residues for anaerobic co-digestion (Gippsland)
Prepared by Royal Melbourne Institute of Technology, RMIT University, Australia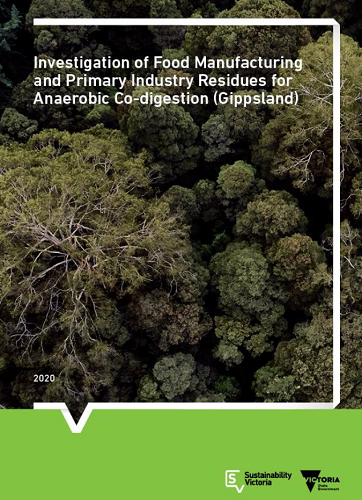 This report is intended for people interested in bioenergy project development and development of the industry more broadly. Intended audience could include primary producers and other biomass producers, the investment and finance sector, local and state government officials, industries that stand to benefit (particularly large heat users) as well as bioenergy project developers. Conversion of biomass and other organic waste arisings is fundamental to transitioning towards a circular, low-carbon economy and is common practice in many countries. Although bioenergy is relatively nascent in Victoria, the state has many bioenergy facilities fuelled by wood waste, milling residues, animal effluent and primary and secondary production residues.
Click here to read the full document.
This section of the website is restricted to financial members of the Bioenergy Association. To enter it, please enter your username and password in the boxes below. If you would like the system to store this information on your computer for future sessions then tick the 'Remember Me' box (and don't use log out).