SNZ PAS 5311:2021 Biomass boilers for small and medium heat loads
This is a Standards New Zealand publication - Access to this standard was sponsored by the Energy Efficiency and Conservation Authority (EECA), who identified the importance of enabling non-technical audiences (such as schools and hospitals), technical process heat audiences, and the public to access a PDF copy of the publicly available specification online at no charge.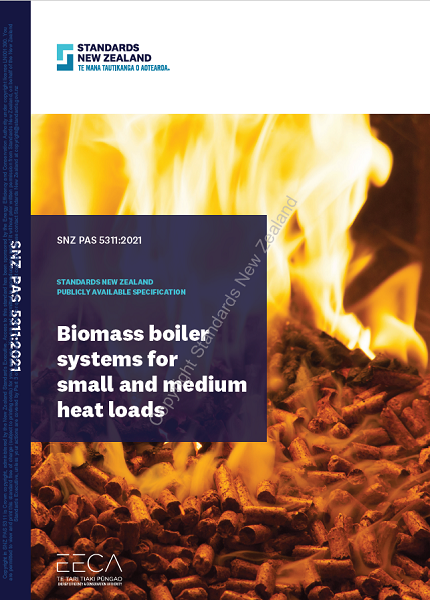 This publicly available specification (PAS) is to provide best practice guidance to support the adoption of low-emission biomass boiler systems in commercial, institutional, and industrial heat applications.
This PAS provides advice and information on biomass boiler systems for small to medium heat loads (50 kW to 2 MW) providing hot water below 100°C. Within this document, a biomass boiler system is one fuelled by wood chip, wood briquettes, wood pellets, or other biomass.
This PAS includes both technical and non-technical guidance on: evaluating heat demand and energy efficiency; generic site requirements; greenhouse gas and local particulate emissions; fuel quality, supply, reception, storage, and handling; operation and maintenance; system efficiency; seasonal efficiency; regulatory and non-regulatory health and safety aspects; and consenting.