Technical Note SB49: Managing wood fibre storage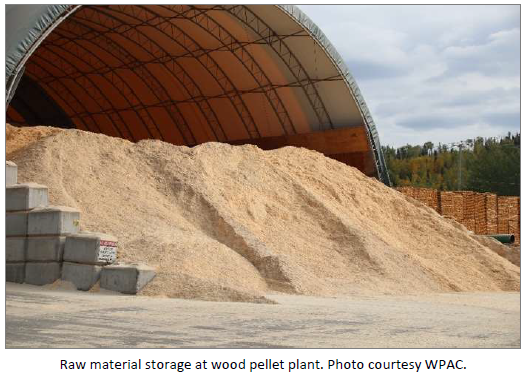 Combustible wood dust in confined storage could present a risk of fire and explosion if it's not managed effectively. The Wood Pellet Association of Canada (WPAC) has developed tools to improve safety and lower the risk when working around wood fibre storage.
In 2017, the Wood Pellet Association of Canada (WPAC)'s Safety Committee, in collaboration with the BC Forest Safety Council (BCFSC), the Manufacturing Advisory Group and WorkSafeBC, established a Working Group to lead the process on developing best practices for combustible dust management in wood fibre storage. This collaboration resulted in the formation of the Wood Fibre Storage Working Group (WFSWG), with the overall objective of improving safety within the wood manufacturing sector by eliminating injuries and fatalities.
The objectives were to:
Assist employers in understanding and assessing the hazards of storing and handling wood fibre in areas intended for storage and infeed processes.
Provide guidance on developing and implementing risk mitigation strategies and preferred operating practices, including training of workers and supervisors.
Provide direction on potential audit elements or standards for fibre storage to be incorporated into the WPAC/BCFSC Combustible Dust Audit; and
Consult with WorkSafeBC on inspection and compliance requirements related to the storage of wood fibre in buildings and structures intended for that purpose.
Click here to read the full document.