The UK LPG industry aims to transition to bioLPG by 2040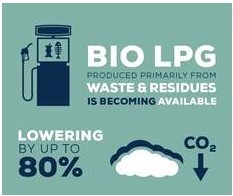 Liquid Gas UK representing the liquefied petroleum gas (LPG) industry in the UK has launched its new vision; laying the marker for the industry to transition to 100% bioLPG by 2040.
Already available on the UK market, bioLPG offers higher levels of reduction in CO2 compared to existing LPG, with the industry outlining its plans to decarbonise. With up to 90% reduction in carbon emissions, bioLPG represents a cleaner energy future for the almost two million off-grid homes in the UK, as well as the thousands of businesses from mobile caterers to rural manufacturers, B&Bs and farms that are reliant on off-grid fuel sources.
Click here to read the full document.