Web190626: Aviation biofuel - ready for take off
Attendance at this webinar is FREE courtesy of EECA business

A webinar presented by Michael Lakeman of Rock Stack Innovation on 26 June 2019 at 2pm (NZ time), 12 noon (AEST), 10am (AWST)
Although aviation is a relatively small contributor to global greenhouse gas emissions, the consistent growth of this transport sector, and the lack of ready options to decarbonise, mean that sustainably produced biofuels are a key component of aviation's strategy to meet the industry's environmental goals.

Since the first biofuel flights only a decade ago that proved technical viability, there has been considerable progress in addressing a wide range of pre-commercial barriers to bringing sustainable fuels to market. Although aviation biofuels are now produced and used on a daily, commercial basis, there is still a lot of work to be done to increase scale of adoption worldwide. In this webinar, Michael gave an overview of:
The story of the development of aviation biofuels
Global efforts to address market barriers
Feedstock and conversion technology options
Standards – Technical and Sustainability
Policy drivers
Risks and remaining challenges
The opportunity in Aotearoa NZ
About the speaker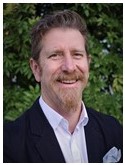 Michael is a veteran of the biofuel industry, having survived the boom and bust of the first-generation biofuel bubble, to forge a decade-long career in bringing advanced sustainable fuels to market. Having worked around the globe with a broad range of stakeholders, Michael has led collaborative efforts to address and solve technology, policy, market, regulatory and commercial barriers to biofuel commercialisation, enabling sustainable fuels to reach the aviation market.
He has served on numerous technical advisory boards, including chairing the biennial review of the US Dept of Energy's $2B bioenergy portfolio. He is currently an expert member of the UN International Civil Aviation Organization's Fuel Task Group, working on implementation of the global aviation carbon offsetting and reduction scheme CORSIA.
Accessing the recording and slides from the webinar
Click on the link below to access the recording and slides from the webinar
Please note that you will taken to a short registration form to complete before you get access to the recording.
Sorry!
This document can only be viewed by Bioenergy Association members.
Please
log in
to view it:
---