Web200908: Bioenergy's role in the emerging circular bioeconomy
This webinar was held on 8 September 2020 at 2pm (NZST), attendance was FREE courtesy of EECA.
How to access the webinar recording and slides from this webinar:
Scroll to the bottom of this webpage, use the 'click here to read the full document' link and follow the instructions.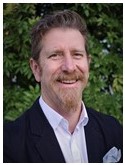 The webinar was presented by Michael Lakeman, Ph.D - Michael has over a dozen years' experience in the global bioenergy sector, having been a pioneering figure in the development of sustainable aviation fuels at Boeing. Now focused more broadly on the emerging bioeconomy, Michael is founder and principal of Rock Stack Innovation, a bioeconomy consultancy serving clients around the Pacific Rim.
Access the webinar recording and slides
Use the following URL to access the webinar recording and slides
Sorry!
This document can only be viewed by Bioenergy Association members.
Please
log in
to view it:
---