Wood Pellet Heating - A reference on wood pellet fuels & technology for small commercial and institutional systems
Wood Pellet Heating guide book prepared for the Massachusetts Division of Energy Resources by Biomass Energy Resource Center, Sponsored by the US Department of Energy through the Northeast Regional Biomass Program, June 2007
How to Use this Book - This guidebook is intended to be a reference for potential owners of institutional - or commercial-scale wood pellet heating systems. Although developed for the Commonwealth of Massachusetts, much of the information is applicable to similar-scale
facilities in other regions. This guidebook will be useful to the following groups:
Municipal, state, or federal building owners
School boards or other school executives
Business owners
Developers and owners of newly constructed space
Any others interested in applying wood pellet heating technology to commercial- or institutional-scale facilities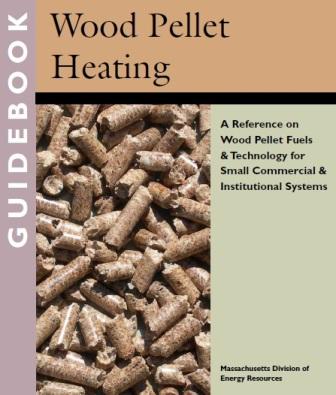 The guide is both a general and a technical resource. Introductory information is provided under each subject heading and new terms are defined in a glossary on page 22 that can be linked to by clicking on the term. The How To sections were designed to help building owners with the more technical decision necessary for installing a wood pellet heating system. Technical experts such as engineers or system vendors can assist building owners with the processes outlined in these sections of the guidebook.