Technical Guide: Biomass heating - medium scale wood chip and wood pellet systems
This publication was commissioned by the Department of Energy and Climate Change and Forestry Commission Scotland for the Regional Biomass Advice Network (RBAN).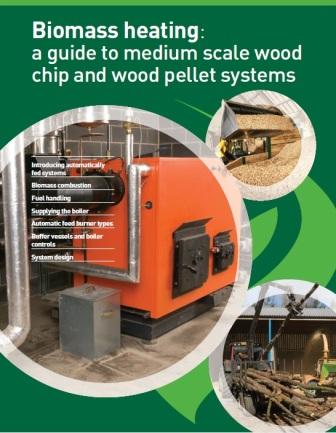 This guide is for automatically fed wood chip and wood pellet biomass boilers of 50 kW and above. The guide covers boilers for commercial applications as very few domestic installations would require a boiler of this size; however, small commercial boilers can usually be installed in large domestic settings and this guide would be suitable.
This guide and the two accompanying publications, Biomass heating: a guide to small log and wood pellet systems and Biomass heating: a guide to feasibility studies, are collectively concerned with low temperature hot water boilers of up to 3 MW, operating at a maximum flow temperature of 95 °C. A guide to feasibility studies is recommended for information on system selection, how to carry out a feasibility study, planning and regulations, emissions and chimney heights.
Other guides in this series: