Manure to Energy Feasibility Study - Duncannon Borough

Studies have shown that past and current agricultural practices have led to an increase of nutrients to the Chesapeake Bay. At the same time, agriculture has changed dramatically over the past several decades to monoculture. With manure becoming concentrated on areas of limited acreage, the utilization of the manure has become more difficult. As a result, specific areas throughout the country have been identified as having excessive nutrients.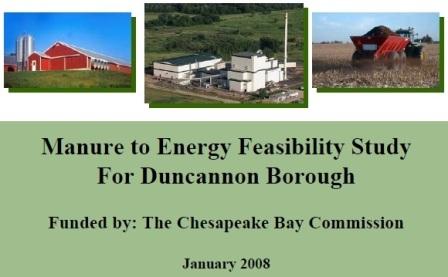 The issue with excessive nutrients has resulted in the need to find alternate uses for this agricultural residual. One alternative use is electricity generation from manure. The use of manure for this purpose offers numerous benefits including a potential reduction in nutrients reaching the Chesapeake Bay, a step towards the goals of the Alternative Energy Strategy Portfolio, and an outlet for farmers to dispose of excess manure.
This section of the website is restricted to financial members of the Bioenergy Association. To enter it, please enter your username and password in the boxes below. If you would like the system to store this information on your computer for future sessions then tick the 'Remember Me' box (and don't use log out).