Report: NZ Productivity Commission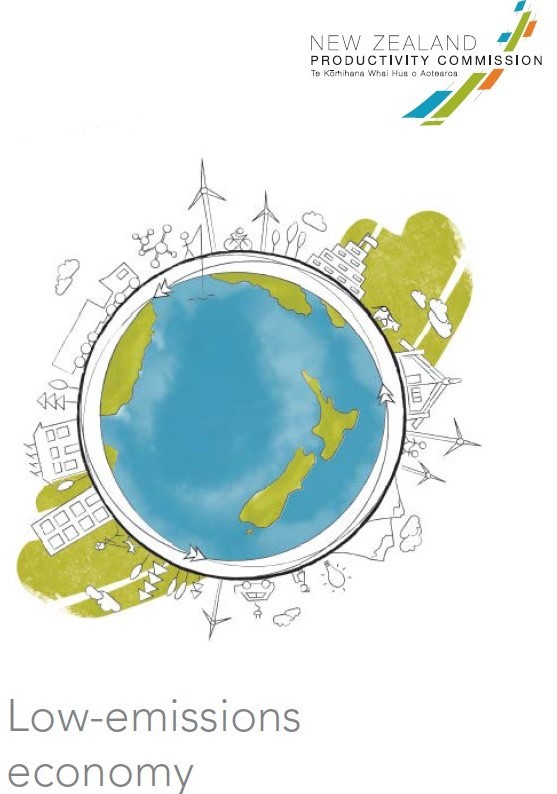 The New Zealand Productivity Commission
Te Kōmihana Whai Hua o Aotearoa
The Government asked the Productivity Commission to identify options for how New Zealand can reduce its domestic greenhouse gas (GHG) emissions through transitioning to a low emissions economy, while at the same time continuing to grow income and wellbeing. In response, the Commission released an issues paper to the public on 9 August 2017 inviting responses to 40 questions. The Commission engaged with a large and diverse group interested in climate change and mitigation policy. They completed over 120 engagement meetings (including overseas), 15 conferences/seminars and received 132 submissions on the issues paper. A draft report was subsequently prepared and released to the public on 27 April 2018. The draft report made 140 findings, 50 recommendations and asked 11 questions. Submissions were called for, and 269 were received. The interest across communities has been unprecedented for Commission inquiries. The Commission's approach to submissions, consistent with good consultation processes, is to maintain a high level of openness and transparency of the views of submitters. Where practicable, the exact wording of submissions has been quoted in the 'Low-emissions economy - Summary of submissions' report.
You can find information on the Commission at www.productivity.govt.nz, or by calling +64 4 903 5150.
The Bioenergy Association responses can be viewed here
This section of the website is restricted to financial members of the Bioenergy Association. To enter it, please enter your username and password in the boxes below. If you would like the system to store this information on your computer for future sessions then tick the 'Remember Me' box (and don't use log out).